Blog
Hidden Delights: Unexplored Vegetarian Cuisines of Jammu and Kashmir await Global Palates
Vegetarian Cuisines from Jammu and Kashmir: Jammu and Kashmir, known for its breathtaking landscapes and rich cultural heritage, also offers a diverse and delightful array of vegetarian cuisines that are yet to receive the recognition they deserve on a global scale. While the region is often associated with its delectable non-vegetarian dishes, the vegetarian offerings are equally remarkable. In this article, we explore ten vegetarian cuisines from Jammu and Kashmir that are often underrated but have the potential to tantalize taste buds around the world.
10 Best Vegetarian Cuisines from Jammu and Kashmir
Dum Aloo:
Dum Aloo, a popular Kashmiri dish, features baby potatoes cooked in a thick gravy of yogurt, spices, and aromatic herbs. The potatoes are parboiled and then slow-cooked in a flavorful blend of spices, resulting in a rich and succulent dish that perfectly balances heat and tanginess. The dum aloo is often enjoyed with traditional Kashmiri rice or warm, freshly baked bread called "kulcha."
Modur Pulao:
Modur Pulao is a sweet rice dish that showcases the fusion of flavors unique to Kashmiri cuisine. Basmati rice is cooked with ghee, saffron, cardamom, cinnamon, and a touch of sweetness from sugar or honey. This fragrant and mildly sweet pulao is typically served with a side of Kashmiri-style yogurt or raita.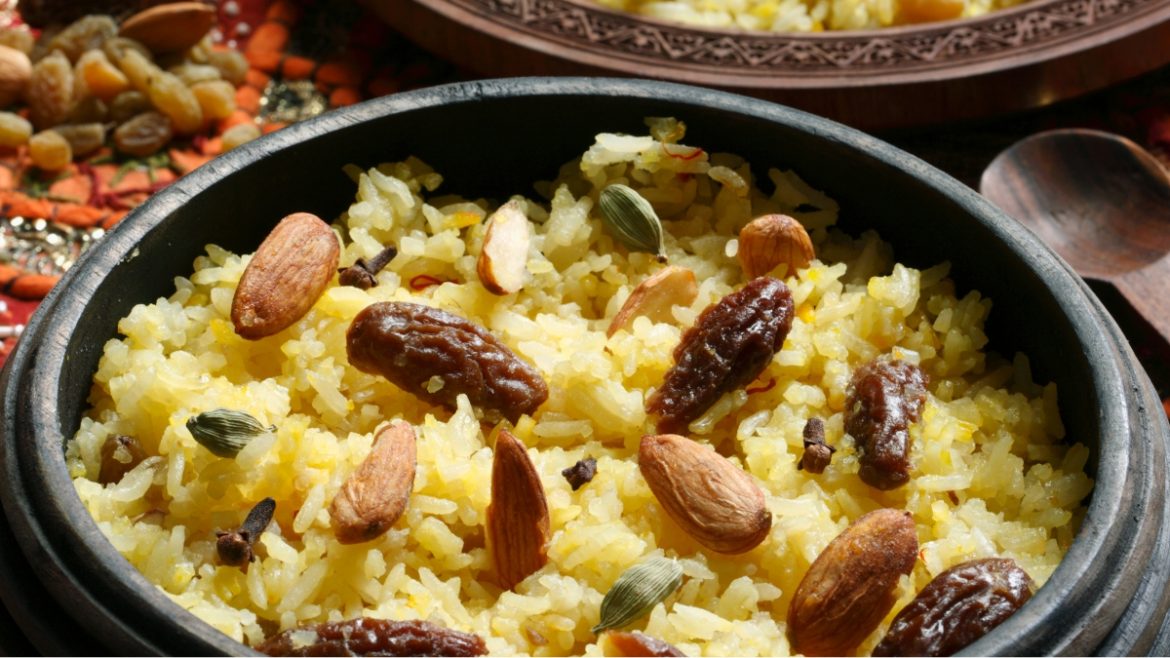 Nadur Yakhni:
Nadur Yakhni is a traditional Kashmiri delicacy made with lotus stem cooked in a yogurt-based gravy. The tender lotus stem is simmered in a blend of spices like fennel, ginger, and cardamom, resulting in a creamy and aromatic dish. Nadur Yakhni pairs well with steamed rice and is a testament to the region's love for unique and flavorful vegetarian preparations.
Rajma Gogji:
Rajma Gogji is a delightful combination of kidney beans and turnips, cooked in a tomato-based gravy infused with Kashmiri spices. The soft and creamy texture of the rajma, combined with the mild sweetness of the turnips, creates a harmonious blend of flavors that make this dish a true Kashmiri gem. It is commonly enjoyed with steamed rice or traditional bread.
Lyodur Tschaman:
Lyodur Tschaman is a classic Kashmiri dish made with paneer (Indian cottage cheese) in a yogurt-based gravy. The paneer is simmered in a flavorful mixture of spices and yogurt, resulting in a creamy and aromatic curry. The dish strikes a balance between the creaminess of the paneer and the tanginess of the yogurt, creating a truly indulgent vegetarian delight.
Palak Nadur:
Palak Nadur is a combination of spinach (palak) and lotus stem (nadur) cooked in a fragrant blend of spices. The lotus stem provides a unique texture to the dish, while the spinach adds freshness and vibrant color. Palak Nadur is not only delicious but also packed with nutrients, making it a must-try vegetarian option from Jammu and Kashmir.
Kashmiri Dum Mushroom:
Kashmiri Dum Mushroom is a rich and flavorsome dish that highlights the region's love for mushrooms. The mushrooms are cooked in a luscious blend of spices, tomato, ginger, and garlic, resulting in a delectable curry. The slow-cooking process allows the flavors to meld together, creating a dish that is both aromatic and satisfying.
Haak Saag:
Haak Saag is a traditional Kashmiri dish made with a leafy green vegetable called haak. The greens are sautéed with garlic, mustard oil, and a hint of Kashmiri red chili powder, resulting in a simple yet incredibly flavorful side dish. Haak Saag is often paired with steamed rice and other Kashmiri delicacies.
Kasrod Monji:
Kasrod Monji is a lesser-known vegetarian dish from Jammu and Kashmir that deserves more recognition. It consists of fritters made from colocasia leaves (kasrod) and lotus stem (monji). The fritters are crispy on the outside and tender on the inside, offering a delightful texture. Kasrod Monji is often enjoyed as an appetizer or served as a side dish.
Despite their incredible flavors and unique characteristics, these vegetarian cuisines from Jammu and Kashmir remain underrated for several reasons. Firstly, the focus on the region's non-vegetarian dishes often overshadows the vegetarian offerings. Additionally, the relatively limited exposure of Kashmiri cuisine outside the region has hindered the global recognition of these delectable dishes. Moreover, the use of specific ingredients and techniques, intrinsic to Kashmiri cooking, may make these cuisines less accessible to international audiences.
However, with the growing interest in diverse culinary experiences and the increasing popularity of vegetarianism and veganism worldwide, these hidden treasures of Jammu and Kashmir's vegetarian cuisine deserve the attention they are yet to receive. By exploring and promoting these lesser-known delicacies, we can help preserve the cultural heritage of the region while delighting taste buds with the diverse flavors and aromatic spices that define Kashmiri vegetarian cooking.